Phase I of Hodag Park construction to include building structures for amphitheater, entertainment area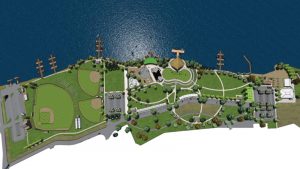 Parks add scenic and recreational value to the Rhinelander community, yet many of the City's parks suffer from limited reinvestment, inconsistent development, and lack of strategic planning. To remedy this, the City of Rhinelander and its constituents have collaborated with key stakeholders and residents since 2014 to foster a comprehensive parks improvement plan that will break ground at Hodag Park this summer.
The Hodag Park Improvements aim to improve access to the park's natural resources, enhance opportunities for outdoor recreation, promote public use with new attractions, update amenities and create a community-oriented space.
Upon overall completion, residents and visitors will enjoy:
Community gathering space and venues for ceremonies, festivals, weddings and reunions;
entertainment areas for music performances, art fairs and flea markets;
enhancement of the park's natural areas with minimal environmental disruption;
enhancement of the existing baseball fields and playground;
new amenities, including a main pavilion, amphitheater, splash pad and more;
increased recreational opportunities for boaters, swimmers, bikers and walkers;
more parking space and seating areas;
more fishing and boating docks;
improved ADA accessibility to nearby walkways and parking lots; and
open spaces for grilling, frisbee and other leisure activities.
Phase I of the Hodag Park Improvements will begin this summer, which will include building the structures for the amphitheater and entertainment area. Tentative completion of Phase I is scheduled for spring 2022, at which time an opening celebration will take place. Subsequent phases of the project will be announced at a later date.
The City of Rhinelander has pledged $100,000 to the enhancement project that will add infinite value to Hodag Park. In addition to this, the City is also seeking donations from members of the community interested in supporting the project.
The Hodag Park Improvement Fund was established by the Rhinelander Community Foundation as a long-term, non-endowed fund to facilitate charitable donations to the project. Donations directed to the Hodag Park Improvement Fund will make grants available for high-priority projects set forth in the Hodag Park Master Plan.
Thanks to a generous contribution from an anonymous donor, the Rhinelander Community Foundation will match the first $100,000 in donations to the project to kick off the fundraising campaign. In addition to this, several donors have contributed to the Hodag Park Improvement Fund since it was established five years ago, and approximately $85,000 is currently available to contribute to priority projects.
To make a tax-deductible donation to the Hodag Park Improvement Fund, checks should be made payable to the Rhinelander Community Foundation with 'Hodag Park Improvement Fund' written in the memo line and mailed to:
Rhinelander Community Foundation
PO Box 1523
Rhinelander, WI 54501
Donations to the Hodag Park Improvement Fund are also available via PayPal. Donors can also find instructions for gifts of stock.
Donors will be recognized for their contributions on the Rhinelander Community Foundation's website. Contact City Administrator Zach Vruwink for naming opportunities.
Questions about the Hodag Park Improvement Fund can be directed to the Rhinelander Community Foundation. Call (715) 401-1618 or email info@rhinelandercommunityfoundation.com.
Questions about the Hodag Park Improvements can be directed to City Administrator Zach Vruwink. Call (715) 365-8600 or email zvruwink@rhinelanderwi.us.