Community Collaboration Brings New Pickleball Courts
A groundswell of community support lead to new pickleball court construction through a collaboration of several groups and organizations including Downtown Rhinelander, Inc (DRI) and the City of Rhinelander. The Rhinelander Community Foundation was able to facilitate the charitable giving for the project. The project lends nicely to RCF's mission to facilitate charitable giving and, together with donors, enhance quality of living in the Rhinelander community now and for future generations.
Pioneer Park Historical Complex
The Rhinelander Community Foundation awarded a $50,000 grant to the City of Rhinelander for the Pioneer Park Historical Complex train project. This grant will be used to get the steam engine at Pioneer Park on a firm foundation. Cranes lifted the engine and tender off the tracks so that a thick concrete pad can be poured in the spring. Thank you to the donors that made this happen – we can accomplish wonderful things together!
Rhinelander Youth Projects
The Rhinelander Community Foundation's newly established Rhinelander Youth Project Fund is ensuring needs are met – both large and small.
Nativity Catholic School and Zion Lutheran School acquired water coolers with bottle fillers through the Youth Project Fund.
The School District of Rhinelander had multiple school and class needs met including Play Packs with supplies for virtual learning, allowing students to participate in MAPES lessons virtually as well as promote physical activity and exercise outside the school day.
The Rhinelander Community Foundation was pleased to facilitate over $100,000 in donations in 2019 earmarked for the Hodag Sports Complex Dome, with another $25,000 granted in 2020. The dome is now inflated and will provide year-round access for students, the community, and senior citizens. The 128,000 sq. ft. dome is the largest high school dome in the country and includes fields for football, soccer, and softball. It will also provide facility space for community events such as trade shows, community gatherings, and other public events.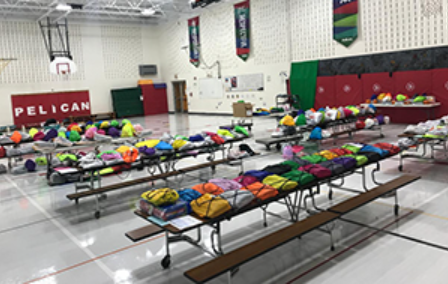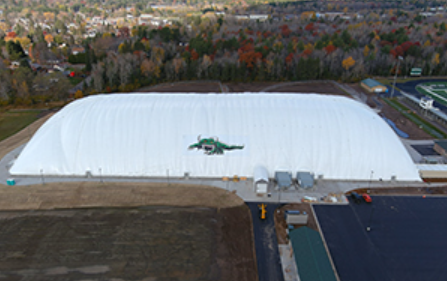 NAMI Northern Lakes, Inc
Rhinelander Community Foundation was pleased to provide a grant to NAMI Northern Lakes, Inc. to continue its mission of supporting, educating, and advocating for individuals and families affected by mental illness. NAMI is affiliated with the National Alliance on Mental Illness and works to reduce the mental health crises and the costs associated with the crises. The Northern Lakes Center is located in the lower level of Trinity Lutheran Church and offers a drop-off service for families. Specific activities include Crisis Intervention Team training for law enforcement, evidence-based NAMI programs like Family-to-Family and Peer-to-Peer, and NAMI Ending the Silence, a fact-based program for high school students.
Samoset Council STEM Scouts
SCIENCE • TECHNOLOGY • ENGINEERING • MATH
Youth in our community face a variety of obstacles and pitfalls every day. The STEM Scouts program recognizes the urgent need for adult mentors to guide young people, including boys and girls who may not join traditional Scouting programs. They are passionate about reaching low-income families in our community to prepare youth for future challenges. The STEM Scouts program nurtures critical thinking, hands-on experimenting, and interest in STEM fields. Students conduct labs while working in teams to release their inner scientist – observing, experimenting, designing, and coming up with conclusions. STEM Scouts labs meet weekly throughout the 2019-2020 school year. Rhinelander Community Foundation's grant will fund scholarships and offset costs to expand the number of girls and boys participating.
Dome & Sports Complex
The Dome is coming! There is buzz throughout the state about Rhinelander's future Dome – the Hodag Sports Complex indoor facility targeted for completion in fall of 2020. Rhinelander Community Foundation was pleased to facilitate a $100,000 donation in September 2019 earmarked for the dome. The air-supported dome allows access for community youth 365 days per year for indoor practices and competitions. It includes fields for football, soccer, and softball. Investing in youth and infrastructure will improve recruitment and retention of talent for Rhinelander businesses and provide programs and initiatives that were previously unavailable. The facility is a game changer in Rhinelander that will have a lasting impact.